Email Scams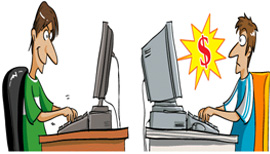 This is the most rampant form of cyber crime. It is of the following types:
Online romance scam- Where a victim is scammed into an online romance and duped.
Online job scams- In this a victim is promised a job and made to pay money for completion of placement formalities and ultimately duped.
Inheritance Scam- In this scam mass emails are sent to people informing them that a rich man has died abroad without an heir and their name matches the name of some purported heir and the victim needs to transfer some money for completion of legal formalities. Now this definitely sounds too good to be true! Nobody becomes a millionaire in a day, and this is a scam!